Top Skincare Ingredients For Scars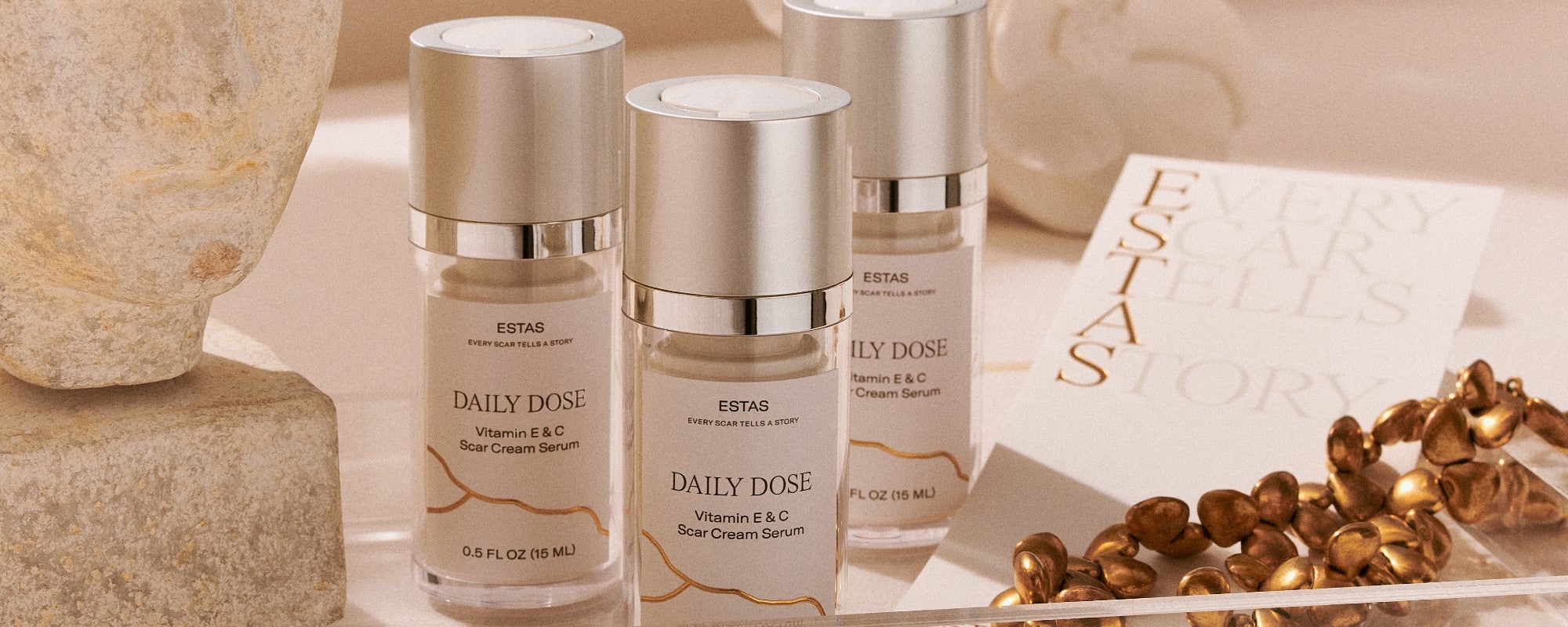 When it comes to skincare, especially skincare for treating scars, it's important to use products infused with only the finest ingredients. After all, it's your body, so choosing the most efficacious ingredients is not only helpful for producing the best outcome but essential for the health of your scar. ESTAS Beauty is the first line of luxury skincare products formulated with ingredients specifically for scars. From protecting to soothing to hydrating scars, ESTAS scar products are made with the best ingredients (like the ones below!) to make your scar beautiful. Read on to discover top skincare ingredients for scars.
VITAMIN E
Vitamin E is our scar care ingredient star!
This fat-soluble antioxidant is commonly infused into skincare products to help reduce oxidative stress for a softer, healthier-looking appearance. Within our scar products, Vitamin E combines with another powerful antioxidant, Vitamin C, to help brighten, hydrate and heal scars. 
Our Vitamin E & C Scar Cream Serum is uniquely formulated with a vectorizing delivery system to allow for better absorption, ensuring your scar gets all the nourishing benefits it needs. Discover our full scar care routine, complete with Vitamin-E infused essentials!
VITAMIN C
Vitamin C is a celebrated scar care ingredient for a good reason.
This potent antioxidant has a wide range of skin benefits, like combating the signs of aging for a brighter, more radiant-looking appearance. When Vitamin C teams up with another powerful antioxidant—Vitamin E—they work hand-in-hand to help treat your scar.
Brighten and nourish your scar with a serum infused with Vitamin C & E. Daily Dose by ESTAS Beauty is a powerful scar cream serum with the potency of serum and the smoothness of cream.
SILICONE
For over 40 years, Silicone has been an effective ingredient to help heal scars. Silicone works by forming a protective barrier to help increase skin hydration and softness.
Try a Silicone-infused mask  to help soften and moisturize your scar overnight. Sleep Salve is formulated with Silicone, Vitamin E, and soothing Blue Seakale to help restore and care for your scar while you sleep.
SEA WHIP EXTRACT
Sea Whip Extract is a powerful skincare ingredient that has anti‐inflammatory properties.
This super-ingredient helps to soothe scars and reduce the appearance of redness and irritation.
Sea Whip Extract can be found in ESTAS Beauty scar products like Daily Dose, a unique scar cream serum that helps moisturize, soothe, and nourish your scar.
EVENING PRIMROSE OIL
Evening Primrose Oil is an antioxidant-rich botanical oil that promotes scar healing by boosting moisture, elasticity, and radiance.
Discover the benefits of Evening Primrose Oil in Morning Massage, our Vitamin E & Primrose Scar Cleansing Oil.
Morning Massage is a massage-activated scar cleansing oil formulated with Evening Primrose & Coconut Oil to gently cleanse skin, leaving your scar clean, soft & supple.
HYALURONIC ACID
Hyaluronic Acid is a true champion when it comes to skincare ingredients that help heal scars. Hyaluronic Acid boosts hydration for visual improvement and a renewed look and feel. Discover scar products infused with Hyaluronic Acid like our best-selling scar cream serum and Silicone & Vitamin E Scar Mask.
References:
https://www.ncbi.nlm.nih.gov/pmc/articles/PMC3673383/
https://www.ncbi.nlm.nih.gov/pmc/articles/PMC4486716/
https://www.ncbi.nlm.nih.gov/pmc/articles/PMC2918339/
https://www.aad.org/public/diseases/a-z/scars-treatment
https://www.ncbi.nlm.nih.gov/pmc/articles/PMC8457217/
https://pubmed.ncbi.nlm.nih.gov/23884503/
https://pubmed.ncbi.nlm.nih.gov/18492193/