4 TIPS FOR C-SECTION SCAR CARE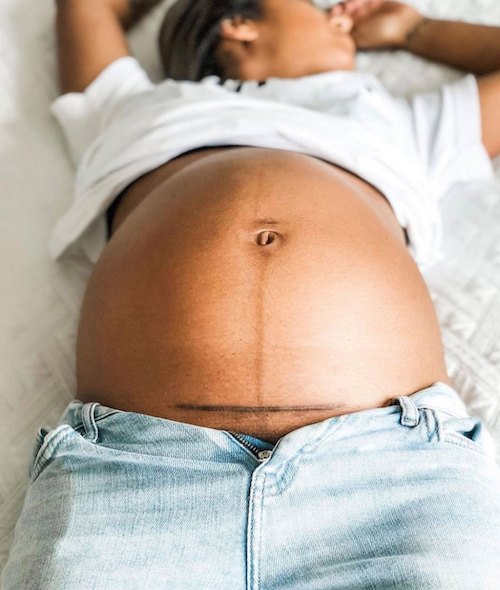 If caring for your C-section scar is a top priority, you're not alone. The cesarean delivery rate in the U.S. is more than 1 in 5 (21%) and continues to rise, making the need for a proper scar care routine increasingly popular. Because whether your C-section scar is horizontal or vertical, finding effective scar care products is essential for keeping it looking its best. ESTAS is the first line of luxury skincare products made specifically for scars like C-section scars. Let us help you celebrate the beauty of your C-section scar with 4 tips for C-section scar care.
TIP 1: MASSAGE
Massaging your C-section scar while cleansing is essential to help flatten and soften. "It can be really difficult to touch and engage with your scar after a C-section," says ESTAS co-founder and recipient of two C-sections, Alejandra Thompson de Jordan. "But massaging this new part of your body will make a huge difference not only in the appearance of your scar but in your overall post-partum recovery." Look for a scar care formula [MORNING MASSAGE PDP] that not only encourages massage but is infused with gentle but effective ingredients to help keep your scar clean, smooth & supple. Morning Massage by ESTAS Beauty is a unique scar cleansing oil formulated with Vitamin E, a powerful antioxidant, and Evening Primrose, known to help boost moisture and radiance. Pump 1-2 pumps of Morning Massage directly onto your scar and massage in circular motions for 1-2 minutes. After the massage, add water to convert the oil to a milky cleanser. Rinse off and pat dry. Use twice daily.
TIP 2: NOURISH
Nourishing your C-section scar is an important step to help promote healing and give it a beautiful appearance. ESTAS Beauty understands that not any product claiming to "nourish" will work— you need a formula with high-quality ingredients made specifically for scars like yours. Discover a Vitamin C & E Scar Cream Serum [DAILY DOSE PDP] that has the potency of serum and the smoothness of cream. Daily Dose is a nourishing scar moisturizer formulated with ingredients like Coconut Oil and Sea Whip Extract to help soothe, hydrate, and brighten your scar. Gently massage 1-2 pumps of Daily Dose onto scar until absorbed. Use twice daily for best results. 
TIP 3: MOISTURIZE OVERNIGHT
Keeping your C-section scar properly moisturized during the day can (and should!) continue overnight. Create a therapeutic barrier for your scar with a Silicone & Vitamin E Scar Mask. [SLEEP SALVE PDP] Sleep Salve By ESTAS Beauty is a luxuriously rich nighttime mask infused with the best ingredients for scars like Silicone, Vitamin E, and Hyaluronic Acid to help restore, soften and moisturize your scar while you sleep. Apply a thin layer to clean, dry skin in the evening and leave overnight.
TIP 4: KEEP OUT OF THE SUN
We know the sun can be harmful to our skin, but the same goes for scars. The sun can irritate and discolor scars like your C-section scar, so keeping it out of the sun is imperative.  Always apply a broad-spectrum sunscreen with an SPF of 30 or higher to your scar and reapply frequently.
Have a C-section scar story? Share yours here [C-section scar story CLP], so we can grow and learn to love our scars together. Discover our complete collection [ESTAS Essentials PDP] of luxurious skincare for C-section scars.
References:
https://www.who.int/news/item/16-06-2021-caesarean-section-rates-continue-to-rise-amid-growing-inequalities-in-access
https://www.cdc.gov/nchs/data/vsrr/vsrr012-508.pdf
https://www.aad.org/public/diseases/a-z/scars-treatment
https://www.aad.org/public/everyday-care/injured-skin/burns/wound-care-minimize-scars#:~:text=To%20help%20the%20injured%20skin,too%20large%2C%20deep%20or%20itchy.