Your Ultimate Skincare Routine for Scars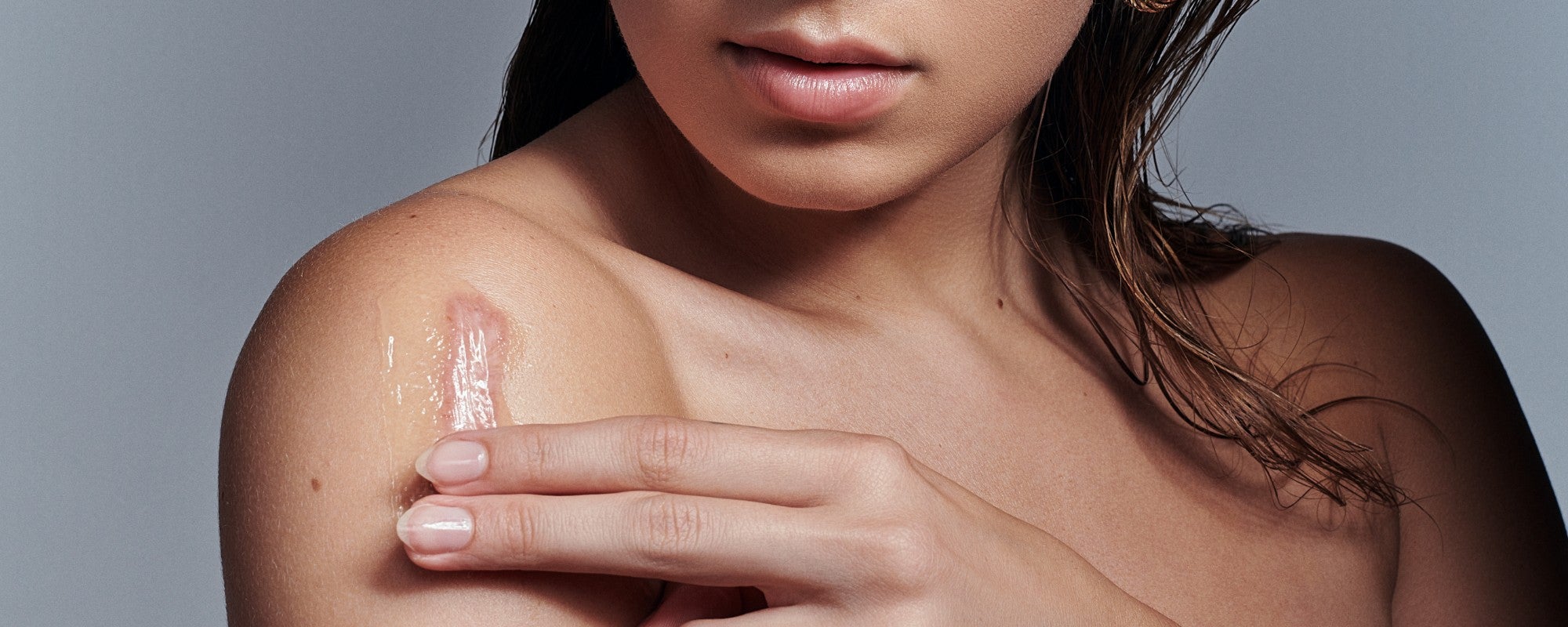 We all can agree that following a proper skincare routine is important, but for it to be most effective, you must tailor your routine to your skin type. Just like you have a routine for oily or dry skin, scarred skin deserves its own unique routine. ESTAS Beauty knows that scarred skin is a different type of skin; therefore, it needs to be cared for differently. Let us help take the guesswork out of nourishing scars in the morning and at night with the ultimate skincare routine for scars.
Morning Routine for Scars
STEP 1: Cleanse (& Massage!)
Cleansing skin is always your first skincare step, but when caring for scars, massaging skin is equally as important to help flatten and soften skin. We recommend cleansing scars with a massage-activated scar cleansing oil like Morning Massage by ESTAS Beauty that cleanses without stripping or irritating skin. Morning Massage is a cleansing oil infused with only the best ingredients for scars like Vitamin E and Sea Whip Extract. Pump 1-2 pumps directly onto your scar and massage in circular motions for 1-2 minutes. After the massage, add water to convert the oil to a milky cleanser. Rinse off to gently lift impurities and pat dry. 
STEP 2: Brighten & Nourish
Help brighten, soften and nourish your scar with a potent scar cream serum. Try a vitamin-infused serum with moisturizing ingredients made especially for scars. Daily Dose by ESTAS Beauty is an impressive scar cream serum made with Vitamin C & E, moisture-locking Silicone, and Sea Whip Extract, known for its skin-soothing properties. After cleansing, gently massage 1-2 pumps onto your scar until absorbed.
STEP 3: Apply SPF
The sun can darken scars, so minimizing exposure is essential. We recommend covering scars with a layer of SPF of at least 30, especially if your scar will be exposed to the sun.
Evening Routine for Scars:
STEP 1: Cleanse (& Massage!)
Cleanse and massage your scar with Morning Massage by ESTAS Beauty.
STEP 2: Brighten & Nourish
After cleansing, apply Daily Dose by ESTAS Beauty.
STEP 3: Moisturize & Soften
Create the perfect environment for your scar with a silky and rich nighttime mask. Sleep Salve by ESTAS Beauty helps keep your scar deeply moisturized while you sleep. This nourishing scar mask is made with powerful ingredients best for scars like Silicone, Vitamin E, and Hyaluronic Acid for intense skin softening and moisturization.  Apply a thin layer of Sleep Salve over Daily Dose serum and leave on overnight.
References:
https://www.ncbi.nlm.nih.gov/pmc/articles/PMC4961501/